LEGO Creator Expert NASA Apollo 11 Lunar Lander 10266 Building Kit (1,087 Pieces)
LEGO Creator Expert NASA Apollo 11 Lunar Lander 10266 Building Kit (1,087 Pieces)
43 new from $99.95
Free shipping
as of July 28, 2023 12:33 am
Features
Detailed Lunar Replica - Features a detailed Eagle lunar lander replica with lunar surface, crater, footprints, and U.S. flag for a realistic space experience.
Realistic Modular Model - This modular set includes a descent stage with gold-colored landing pads, panels, opening camera, laser hatches, and movable ladder.
Ascent Stage Interior - The ascent stage boasts a detailed interior with room for 2 astronaut minifigures, finished with an Apollo 11 Lunar Lander nameplate.
Astronaut Minifigures Included - This collector building set includes 2 astronaut minifigures with NASA decoration and golden helmets.
Great Collector's Display - This building model makes a great centerpiece for home or office, providing a challenging and rewarding building experience for adults.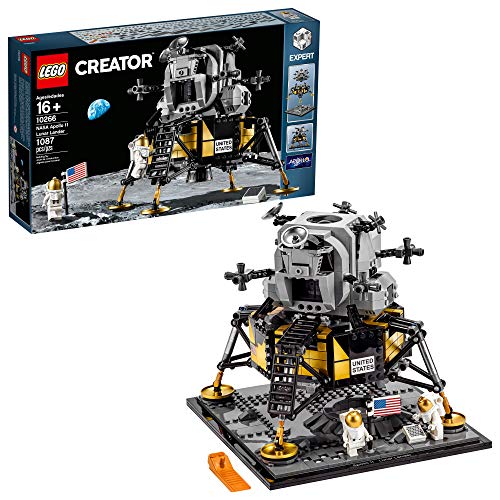 LEGO Creator Expert NASA Apollo 11 Lunar Lander 10266 Building Kit (1,087 Pieces)