LEGO DUPLO Big Construction Site 10813 Building Set with Toy Dump Truck, Toy Crane and Toy Bulldozer for a Complete Toddler Construction Toy Set (67 Pieces)
LEGO DUPLO Big Construction Site 10813 Building Set with Toy Dump Truck, Toy Crane and Toy Bulldozer for a Complete Toddler Construction Toy Set (67 Pieces)
7 new from $149.99

as of October 31, 2023 2:17 am
Features
Spark your toddler's young imagination with this build your own construction set full of construction vehicles and extra building bricks! They'll spend hours in pretend play with this unique construction toy set.
This building toy includes a toy bulldozer, toy dump truck with tipping bucket, and toy crane with rotating cabin, movable arm, and working claw. Plus, three construction worker LEGO DUPLO figures with safety helmets, a wheelbarrow, and tools.
LEGO DUPLO building toys are the perfect toddler toys for boys and girls as they are made for small hands and are compatible with other LEGO DUPLO sets, such as additional construction sets, for creative play
Kids can also engage in creative play with the new, free LEGO DUPLO stories skill on Echo that utilizes storytelling for kids with this toy construction site
This 67 piece set is ideal for boys and girls between the ages of 2 and 5 years old. The toy bulldozer is over 3inches high, 5inches long, and 3inches wide; the toy truck is over 4inches high, 9inches long, and 2inches wide; the toy crane is over 8inches high, 11inches long, and 4inches wide.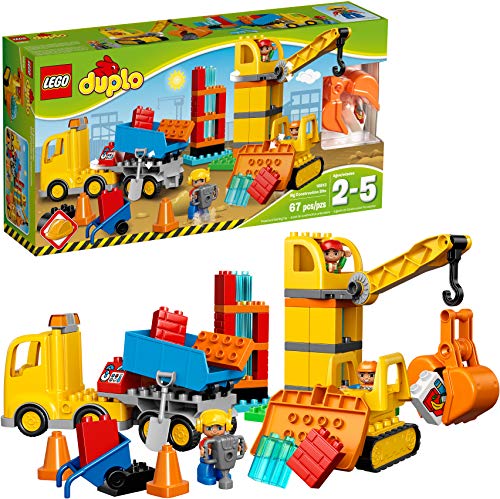 LEGO DUPLO Big Construction Site 10813 Building Set with Toy Dump Truck, Toy Crane and Toy Bulldozer for a Complete Toddler Construction Toy Set (67 Pieces)