LEGO DUPLO Town Big Fair 10840 Role Play and Learning Building Blocks Set for Toddlers Including a Ferris Wheel, Carousel, and Amusement Park (106 pieces)
LEGO DUPLO Town Big Fair 10840 Role Play and Learning Building Blocks Set for Toddlers Including a Ferris Wheel, Carousel, and Amusement Park (106 pieces)
15 new from $134.99

as of August 4, 2023 4:47 am
Features
Enjoy a day at the super fun LEGO DUPLO Town Big Fair! Toddlers can role play riding the ferris wheel or pretend they're riding on the carousel. This amusement park toy includes large building blocks, the perfect size for toddlers learning to play!
Includes 106 LEGO DUPLO building blocks to create a toy carnival with ferris wheel, merry go round, and 5 LEGO DUPLO figures. Boys and girls will love to role play with this amusement park building set featuring interactive child development toys.
Features a ferris wheel with 3 cars and turning function to help toddlers develop spatial awareness through play, a rotating carousel with 4 horse figures, 2 wavy slides and train with carriage for pretend rides and amusement park role play.
Toddlers will enjoy creative and imaginative role playing with the LEGO DUPLO Town Big Fair set, which is compatible with all LEGO DUPLO building bricks for endless make believe fun!
Ferris wheel measures over 14-inch (38cm) high, 7-inch (19cm) wide, Carousel over 7-inch (20cm) high, and 7-inch (21cm) wide, Kiosk over 9-inch (24cm) high, 4-inch (12cm) wide, and Train over 3-inch (9cm) high, 9-inch (24cm) long and 3-inch (6cm) wide.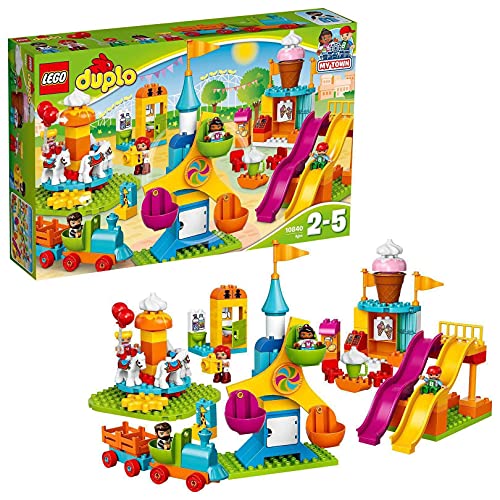 LEGO DUPLO Town Big Fair 10840 Role Play and Learning Building Blocks Set for Toddlers Including a Ferris Wheel, Carousel, and Amusement Park (106 pieces)