LEGO Marvel Avengers Iron Man Mech 76140 Kids? Superhero Mech Figure, Building Toy with Iron Man Mech and Minifigure (148 Pieces)
LEGO Marvel Avengers Iron Man Mech 76140 Kids' Superhero Mech Figure, Building Toy with Iron Man Mech and Minifigure (148 Pieces)
27 new from $24.99
Free shipping
as of July 28, 2023 1:03 am
Features
Power up kids' LEGO Iron Man adventures with the mighty Iron Man mech: When they put the minifigure inside the mech armor, they can go anywhere, grab anything and remove anyone who gets in their way!
Kids will love the new-for-January-2020 Iron Man mech design, which is a larger version of Iron Man with a breastplate displaying his all-important energy core
Imaginations soar when young superheroes open the mech's cockpit, insert the Iron Man minifigure, position the mech's arms and legs for action, and fire the stud shooter at approaching enemies!
This LEGO Iron Man mech superhero set sparks imagination, offers endless build-and-play fun, and is an action-filled holiday, birthday or anyday gift for kids ages 6+ who love Iron Man, Marvel Avengers, superheroes and mechs
The outstretched Iron Man mech measures over 4" (12cm) tall x 3" (9cm) wide x 3" (9cm) deep , which is big enough to go anywhere, grab anything and remove any villains or alien invaders that get in his way/!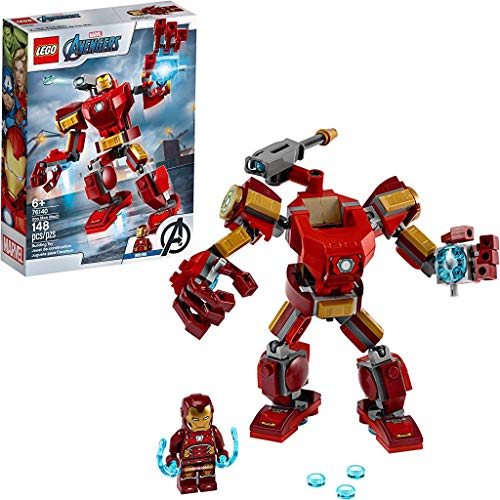 LEGO Marvel Avengers Iron Man Mech 76140 Kids? Superhero Mech Figure, Building Toy with Iron Man Mech and Minifigure (148 Pieces)