LEGO Marvel Avengers Thanos Mech 76141 Cool Action Building Toy for Kids with Mech Figure Thanos Minifigure (152 Pieces)
LEGO Marvel Avengers Thanos Mech 76141 Cool Action Building Toy for Kids with Mech Figure Thanos Minifigure (152 Pieces)
50 new from $12.95
Free shipping
as of July 28, 2023 12:46 am
Features
Put Marvel Avengers action in the hands of young superheroes with Thanos and his super-sized mech!
Kids will love the Thanos mech, which is a larger version of Thanos with his distinctive breastplate, and includes the powerful Infinity Gauntlet, complete with 6 Infinity Stones, and a new-for-January-2020 Thanos minifigure pilot!
Kids open the cockpit to put the Thanos minifigure inside the mighty mech as he prepares to annihilate the universe or strike a pose for display in any young superhero's bedroom!
This LEGO Marvel Avengers mech superhero set sparks imagination, offers endless build-and-play fun, and is an action-filled holiday, birthday or anyday gift for kids ages 6+ who love Marvel Avengers, superheroes and mechs
At over 4" (11cm) tall x 5" (13cm) wide and 2" (6cm) deep, the Thanos mech offers big-scale Marvel Avengers fun!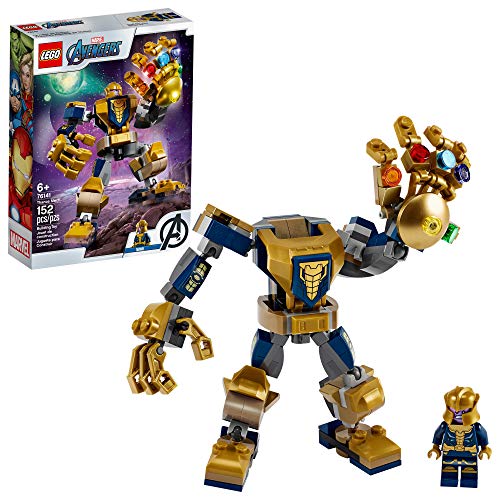 LEGO Marvel Avengers Thanos Mech 76141 Cool Action Building Toy for Kids with Mech Figure Thanos Minifigure (152 Pieces)