LEGO Marvel Spider-Man Daily Bugle 76178 Building Kit; Collectible Playset Designed with Adult Marvel Fans in Mind (3,772 Pieces)
LEGO Marvel Spider-Man Daily Bugle 76178 Building Kit; Collectible Playset Designed with Adult Marvel Fans in Mind (3,772 Pieces)
19 new from $369.99

as of July 28, 2023 12:28 am
Features
Marvel LEGO Set - 3,772-piece, 32 in./82 cm high, 4-floor Daily Bugle office recreation with 25 minifigures for adult collectors.
Removable Facades - Easy access to detailed rooms with various accessories, and large front posters on the building.
Penthouse Office - Bugle's Editor in Chief office, Spider-Man's buggy, and action-packed scenes with Marvel characters.
Iconic Minifigures - Doctor Octopus, Spider-Man, Venom, Miles Morales, Spider-Ham, Green Goblin, and more in this collection.
Additional Characters - Peter Parker, Spider-Gwen, Mysterio, Sandman, Robbie Robertson, and other LEGO Marvel minifigures.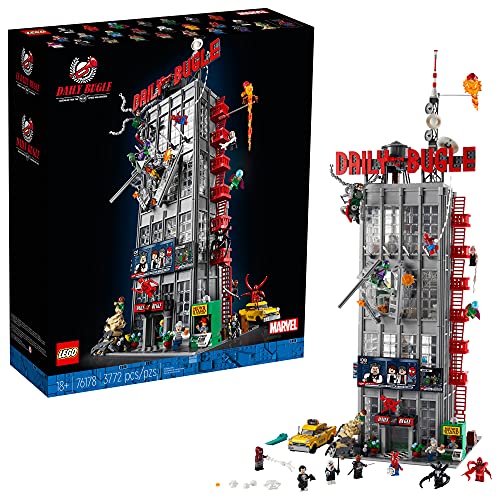 LEGO Marvel Spider-Man Daily Bugle 76178 Building Kit; Collectible Playset Designed with Adult Marvel Fans in Mind (3,772 Pieces)