LEGO Star Wars Sith TIE Fighter 75272 Collectible Building Kit, Cool Construction Toy for Kids, New 2020 (470 Pieces)
LEGO Star Wars Sith TIE Fighter 75272 Collectible Building Kit, Cool Construction Toy for Kids, New 2020 (470 Pieces)
29 new from $81.89
Free shipping
as of July 28, 2023 12:45 am
Features
Let kids fly First Order pilot missions with this buildable Sith TIE fighter model featuring a slick, new-for-January-2020 design, just like in Star Wars: The Rise of Skywalker!
The TIE fighter features an opening minifigure cockpit and 2 spring-loaded shooters. There's also a docking tower for launch, landing and to display the construction model, plus 3 minifigures for role-play action!
The First Order TIE Pilot, Knight of Ren and Finn minifigures have cool battle accessories, and this set combines perfectly with Poe Dameron's X-wing Fighter (75273) for epic First Order vs Resistance battles!
This LEGO Star Wars building set sparks imagination, offers endless build-and-play fun, and is a great holiday, birthday or anyday gift for kids ages 9+ who love Star Wars, LEGO Star Wars and space battle toys
The Star Wars TIE fighter build measures over 8" (21cm) high, 9" (24cm) long and 8" (22cm) wide, so it makes a striking construction model to display in any room when not being flown on First Order missions!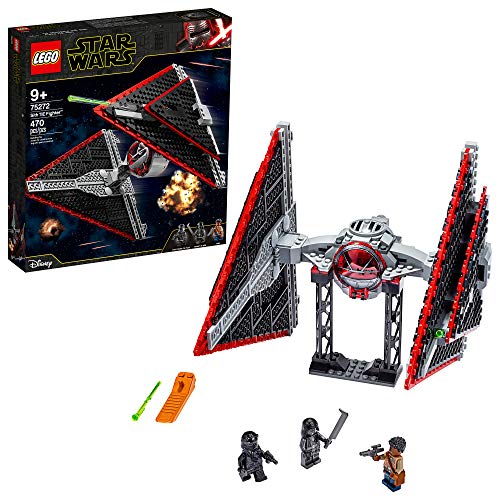 LEGO Star Wars Sith TIE Fighter 75272 Collectible Building Kit, Cool Construction Toy for Kids, New 2020 (470 Pieces)